Scope of application
Applicable to hazardous areas 1 and 2 dangerous places;
Use in areas with flammable dust environment 20, 21, 22;
Suitable for ⅡA, ⅡB, ⅡC explosive gas environment;
Suitable for T1 ~ T3 temperature group;
Widely used in oil exploration, refining, chemical, military and other dangerous environments and offshore oil platforms, tankers and other places for work lighting.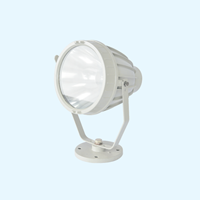 feature of product
The shell is made of aluminum alloy die-casting, and the surface is electrostatically sprayed with high voltage;
Tempered glass lampshade, stainless steel exposed fasteners, galvanized surface on the protective net;
Fastened with articulated bolts, which can be quickly opened for easy installation and maintenance;
The lamp body can be rotated 360 ° horizontally, and the elevation angles of type Ⅱ and type Ⅲ are adjustable within -60 ° ~ + 90 °;
The reflector adopts the shape of a parabola, which has a high reflectivity. The range can reach 100m in high beam;
Cable routing.