Scope of application
Applicable to hazardous areas 1 and 2 dangerous places;
Use in areas with flammable dust environment 20, 21, 22;
Suitable for ⅡA, ⅡB, ⅡC explosive gas environment;
Suitable for T1 ~ T3 temperature group;
It is widely used in dangerous environments such as oil extraction, refining, chemical industry and military industry, as well as dangerous places such as offshore oil platforms and tankers.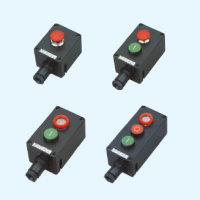 feature of product
Increased safety enclosure with built-in components as explosion-proof components;
The shell is made of glass fiber reinforced unsaturated polyester resin, which has excellent properties such as antistatic, impact resistance, corrosion resistance and good thermal stability;
Explosion-proof control switch has compact structure, good reliability, small size, strong on-off capability, long life, and multiple functions for users to choose. The explosion-proof button adopts ultrasonic packaging technology.
Ensures a reliable combination of strength, the function of the button can be combined by the unit, the explosion-proof indicator light uses a special design, AC 220V ~ 380V universal
The connecting surface of the shell and the cover adopts a curved road sealing structure, which has better waterproof and dustproof capabilities.
The exposed fasteners are made of stainless steel, which is easy to maintain;