Explosion-proof air conditioners are divided into high temperature, low temperature, extra high temperature and extra low temperature according to the working environment.
The product has cooling and heating and automatic defrosting functions. The compressor, fan, etc. have undergone special explosion-proof treatment. The type of explosion-proof is the entire machine. Explosion-proof products can be used in flammable and explosive mixed gas environments such as petroleum, chemical, pharmaceutical, scientific research, military, and dangerous warehouses. The structure adopts composite explosion-proof technology such as flameproof type, intrinsically safe type and potting type. The control end is controlled by intrinsically safe type without generating any electric spark. It is convenient and safe to use. It adopts high-efficiency multi-fin heat exchanger to pass cold coal The contact with air is more sufficient, which can greatly improve the cooling and heating effect of air conditioners. There are two types of manual control and remote control. Explosion-proof air conditioners cannot be produced and sold without a production license.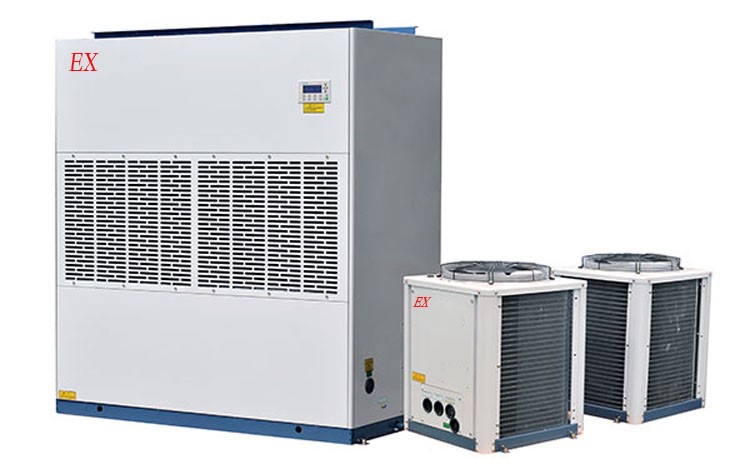 structure
This explosion-proof air conditioner is composed of the indoor unit and outdoor unit connection pipes. The following is a schematic diagram of the vertical air conditioner structure:
Air inlet: the air in the room is sucked in and dust is removed through the air filter.
Air outlet: The conditioned air is blown out from here.
Drain pipe: The moisture in the room is discharged through the drain pipe where the condenser generates small water droplets.
Connection pipe: The indoor unit and the outdoor unit are connected by copper pipes, through which the refrigerant flows.
Outdoor unit: The outdoor unit is composed of compressor, fan, heat exchanger, capillary (electronic expansion valve) and other electrical components.